Law Enforcement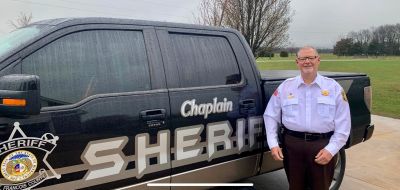 Pastor Rhodes is a member of the International Conference of Police Chaplains and has successfully met the standards and requirements for MASTER CERTIFICATION.
Police officers are sometimes called into situations where they sense a spiritual counselor would be helpful.
 Initial police assistance in these situations is important, but extended involvement keeps officers away from other urgent situations. Consequently; Sheriff Dan Bullock has appointed Pastor Rhodes as Chaplain for the St Francois County Sheriff's Department.
Police chaplains offers spiritual guidance and assistance to people in crises situations and serve as a link of communication between people in crises and their own spiritual advisors. If those who receive counseling ask for further help, the chaplain will coordinate with follow-up guidance as necessary.
Believing that God is the answer to man's dilemma, the chaplain stands ready to bear witness to the forgiving love and redeeming power of God to all people confronted with a crises. Law Enforcement officers request the police chaplain in situations involving spiritual or emotional problems rather than problems involving law violations. Chaplain Rhodes assists all the law enforcement agencies in St. Francois County.
Police chaplains provide help in the areas of:
Family disturbances
Lonely and despondent persons
Alcohol and drug abuse problems
Pastoral care and counseling for police officers and their families
Suicide prevention
Death notification
Visiting sick or injured officers and departmental personnel in homes and hospitals
Prayer at special occasions such as recruit graduations and award ceremonies